Zut alors! I didn't realise how long it'd been since my last post - bad Little Curly Girl, this really will not do.

I don't have much of an excuse except that I went to London last week, came back and then was back down there again before I had time to really think about it.
It's now 1.20am and I need to rest my head, so I'm going to try and keep this short, but I've got much to speak of so let's just see how it goes, shall we?
First off, the Topshop sale started last week, and while I didn't manage to get hold of a cheap blazer (they had a few but sadly not in my size), I did buy a new dress and some jingly jangly earrings;
Not sure if you can really see from the photos (courtesy of topshop.com), but the bottom is all hitched up, kind of like a saloon girl or a lady pirate. You can never have too many black dresses, especially not ones that are as versatile as this and at £15 it pretty much would have been a criminal offence not to buy it. The earrings I bought aren't on the website, so I'll show them in another post - can't be bothered getting all snap-happy now. But rest assured they are jangly and brilliant.
All in all, I was impressed with the sale; if I'd had more money and the shop hadn't been so goddamn hot and hectic, I'd have probably tried on and spent more.
Now that was the Liverpool store. While killing some time on Monday afternoon in London, I took an eye-opening trip to the Oxford Street store.
Oh. Sweet. Kittens. I can't believe I've never been there before. It's just...so...BIG! They have two basements - you go down once, then you go down again! There was so much to look at! So many brands and concessions and vintage things and shoes and they have a Nails INC and an eyebrow threading studio and a place where you can get your hair blow dried! And they have toilets! AND a cafe! A cafe INSIDE Topshop! You could basically live there and maintain a perfectly groomed, stylish life. That is, until the security guards realised that the "Topshop hermit", which they had previously thought was just a myth conjured up by busy mothers trying to frighten their children into not wandering away from the changing rooms, was actually a real thing, living on bagels and dancing around the store at night wearing Sass & Bide jeans and Johnny Loves Rosie hair accessories.
But I digress. I didn't actually buy anything in the London Topshop, even though the sale was massive and I'm sure I could have found many wonderful things had I stayed longer, but I didn't really have time as I had to get across London to meet a certain Ealing-residing lady to go to a concert. Or 'gig' as the young folks say.
After a brief mishap which involved me firstly getting lost on Oxford Street trying to find the entrance to the tube and then getting trapped in rush hour traffic while underground, I finally met up with my lady friend and we made our way to the Soho Theatre to see the lovely Camille O'Sullivan.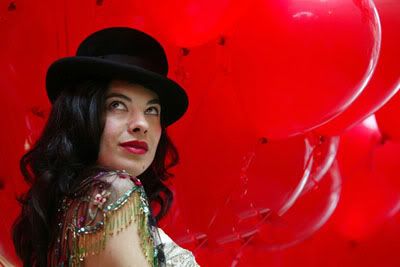 Camille O'Sullivan is the sort of person who, if she was living in a 1940s cheesy American film, she would walk past a group of men and they'd stop and stare and then say "What a woman!" just like that.
Basically I'd like to be her. She's fabulous. I could go into great detail about how amazing the show was, but I was meant to be keeping this short and there's already quite a lot of stuff about her on the Internet, written by people who probably know much more about music than I do. But I do urge you to check her out if you haven't already because she is something special. Beautiful voice, beautiful character.
What I am going to talk about though, is her style. You can probably tell from the pictures above, that there's definitely an element of burlesque and old-style glamour there. But she wasn't quite as polished as some of those other ladies (Dita Von Teese et al), there was something a bit more shabby chic about her; pretty much everything she wore was a bit old or vintage, her shoes were worn down, her dress looked damaged and at one point she wore a kimono that had makeup stains on the back. Yet she looked stunning and I found that whole 'give a damn, I'm going to wear this coz I love it, not coz it's fashionable/new/clean' attitude so intriguing.
I very rarely shop for vintage clothing, partly because I never find anything that fits me and partly because I think it's difficult to find really good quality vintage; some of it just looks old and faded and scruffy and that's never really been my thing. But seeing how Camille could take all that worn out stuff and still look glamourous and sexy was just so interesting and it made me think of that kind of bohemian/gypsy/Moulin Rouge type thing, where it's more of a case of wearing whatever you could get your hands on and still looking damn cool. I searched for some photos of this sort of ragamuffin, gypsy, scavenger style, hoping that maybe I'd come across some fashion editorials that played with these ideas, but I couldn't find anything that went along with what I had in mind. This image from The Terrible Infants, a show I saw last summer in Edinburgh, is probably the closest thing to ragamuffin chic I could find;
Anyway, as I didn't manage to find any photo shoots which featured this kind of style, I'm thinking I might rope my sisters into doing one with me; my wardrobe is full of things that I think would work in this context, and I'll use this old nursery rhyme as inspiration;
Hark, hark, the dogs do bark
The beggars are coming to town.
Some in rags and some in jags
And one in a velvet gown
I'll keep you posted on my progress!