Following on from
last week's
post about the Chanel Couture show and all the lovely, pale blue streaked hair, I thought I'd post a few more images of technicolour tresses and colourful curls;
"MY HAIR IS BLUE!"
Don't worry, Kate, your hair is like, totally in style right now.
All-over neon pink at Comme des Garconnes Fall RTW 2009 & John Galliano Spring RTW 2010 does coral on blonde
Subtle streaks of blue at Giles Spring RTW 2010 while Proenza Schouler Spring RTW 2010 went for washed-out violet
See? Colourful hair is everywhere!!!
While I'm loving the kind of randomly sprayed effect they had going on at Galliano (seriously, coral and golden blonde looks so good together!), the one that seems to really be carrying over from the catwalk shows is the Proenza Schouler-esque 'my-at-home-hair-dye-kit-went-wrong'; I've seen so many street-style photos of girls sporting faded colourful streaks. To get that affect you would definitely have to use dye; I don't think a coloured spray or gel would do the trick because it'd add a bit too much texture to the hair and it's still supposed to look quite natural (well, as natural as purple hair can look...) Like I said in my last post, I'm not willing to dye my hair, but I'm still intrigued by this look. Definitely need to take a trip to Boots and to see what kind of temporary hair colourants are available. I'll keep you posted!
Now a lot of folks are putting the popularity of this colourful hair malarkey down to one Lady in particular;
"Who me? Nah, I'm to busy bluffin' with my muffin to worry about starting hair trends"
However, I noticed a couple of other famous faces who were sporting crazy coloured hair long before Lady Gaga was on the scene (can you even remember a time before Lady Gaga was on the scene? No, me neither. How different life must have been back then...)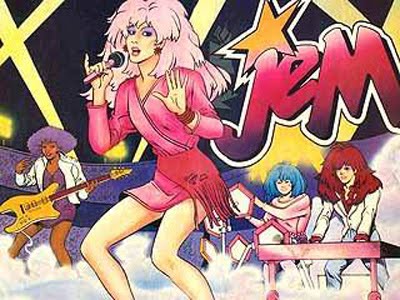 Like an 80s version of Hannah Montana, Jerrica Benton had the good fortune of being rendered completely unrecognisable when wearing the pink wig of her alter-ego, Jem. Along with her pals, the Holograms, Jem sang songs, battled the Misfits ("We are the Misfits, our songs are better, we are the Misfits, the Misfits and we're gonna get her!"), ran the Starlight Foundation for Girls and, most importantly, rocked some seriously big, colourful hair. Apart from Kimber, who was allergic to hair dye so was forced to remain a ginger forever. She later shaved all of her hair off and forged a fairly successful career as a Sinead O'Connor tribute act. That last bit is all just speculation, but I'm pretty sure it's based on some truth.
Oh Frenchie, when Vi from the diner told you that your hair looked like an Easter Egg, you pretended it was caused by "a little accident in tinting class", but we all know the truth - you were way ahead of your time with regards to hair colouring and wanted a change from the backcombed curls and bouncy ponytails of the 50s. Ok, the fumes from all that peroxide may have played some part in the demented "Beauty School Dropout" hallucination involving Frankie Avalon and a whole load of tin foil, but still, you were a pioneer, Frenchie, and for that, we thank you.